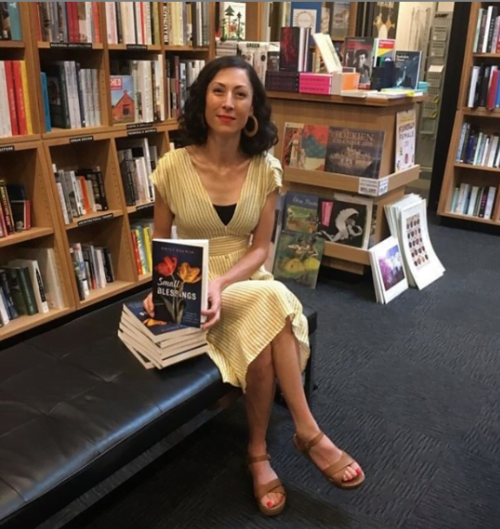 Melbourne has an array of brilliant bookstores, and yesterday I had the pleasure of visiting some of them to sign copies of my brand spanking new novel, Small Blessings. It was lovely to meet so many passionate booksellers and to …
I am sharing my journey to publication, complete with hot tips, at Coburg Library on February 11th from 7-8pm. It's a free event. Go to: https://www.moreland.vic.gov.au/libraries/library-events-and-activities/readmore-project/Journey-to-publication-/ to book your place.
Well, the day has finally arrived… my new novel, Small Blessings, hits stores and I couldn't be more thrilled! A HUGE thank-you to all the wonderful folk who have helped make this happen – Annette Barlow and the team at …
Perth Tonight's, Chris Ilsley, interviewed me last week to discuss the motivation behind the characters and plot of my new book, Small Blessings. Click here to listen to the full podcast interview.
I was lucky enough to be interviewed recently by iconic Melbourne radio duo, Jan Goldsmith and David McLean, on their 3CR show Published or Not about my new book, Small Blessings. '3CR's Australian and international authors talk about their books …
A huge thanks to Margot Lloyd and the SA Weekend Magazine for this review of Small Blessings.
Small Blessings is out soon and I'd love to you see you at its launch at Readings bookstore in Carlton on February the 13th. Follow the link for details: https://www.readings.com.au/event/book-launch-small-blessings
Small Blessings was recently voted by library staff across Australia as one of February 2019's top ten new release books. Needless to say, I am thrilled and humbled to see it nominated alongside so many great upcoming titles. An especial …
A BIG thanks to Margaret River Press and to judges, Donna Mazza, Luke Johnson, Camha Pham and Michelle Cahill for shortlisting my story, A Twist of Smoke, in the 2019 Margaret River Short Story Competition. I look forward to seeing …
Be in the running to win a copy of my new novel, Small Blessings… Simply click to go to the Mailing List page. The winner will be drawn on the book's launch day – February the 4th 2019. Good Luck!